Residential architects Brisbane & SEQ
Skewed Director Nathan Hildebrandt has 20+ years experience designing exceptional homes throughout Brisbane, Gold Coast and Sunshine Coast. He brings immense value to residential architectural projects of all scales and complexities – from luxury new residences to stunning renovations and practical extensions.
Nathan's approach to architecture is not about winning fancy awards, rather it's all about creating better living spaces to enhance people's quality of life. He is passionate about designing homes and infrastructure that reflect the unique vision and functional requirements for his clients to create happy memories living within.
Throughout his career Nathan has earned a reputation for consistently exceeding expectations and going the extra mile for his clients. At the heart of his approach is a focus on 'intelligent design'. More than simply designing beautiful homes, Nathan designs functional robust homes which maximise budget value and seamlessly synchronise with the many unique environmental, climate, geographical and council factors of SEQ.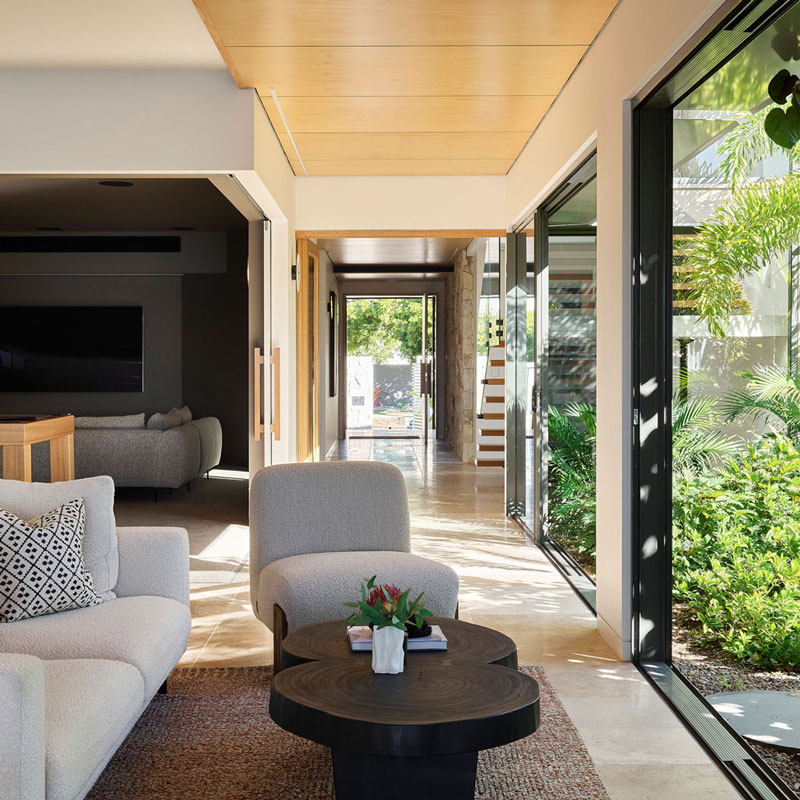 Other projects
Stephen Residence - Camp Hill
Townhouse Extension - Keperra
Flip Extension - Bridgeman Downs
Richmond Deck - Morningside
North Stradbroke Island - 3 Residences*
Annerley House*
Jones House*
* denotes work completed at another practice
Local knowledge & experience across all types of residential architecture projects
Whether you are looking to build a new house, a new secondary dwelling or simply looking to do some renovations or an extension to your existing residence, Nathan can help. As a registered architect with extensive knowledge of local regional and environmental factors, Nathan can assist all types of residential projects throughout Brisbane, Gold Coast and Sunshine Coast.
Nathan's expertise extend across designing and documenting all types of residential homes, including:
Luxury residences
Waterfront properties
Multi-unit and townhouse developments
Efficiently planned beach house retreats
Small lot housing
Rural homesteads
Having an architect on board will help make the challenge of renovating or extending your home easier. Nathan brings extensive experience designing home renovations and extensions that will meet the current and future needs of you and your family. Applying various architectural styles in his design responses, Nathan can provide custom solutions which will improve the livability of your home, both inside and out.
Nathan is passionate about developing creative solutions to meet the constantly evolving spatial needs of modern families. Whether you require a granny flat, home office, teenage retreat or other secondary dwelling, he can help. With vast experience working within SEQ council and National Construction Code regulations, he will be your trusted advisor throughout the process.
Queenslander homes have a unique style, one which needs to be especially considered when renovating them. Nathan can assist designing renovations or extensions to Queenslander's which are either sympathetic to the original aesthetic, or in strong contrast. Having lived in QLD his whole life, Nathan understands the positives and challenges that living in a Queenslander can bring. He can apply this to your project.
Home theatres are a popular addition to any home, whether you want to watch the big game with your mates or settle in for a night of Netflix with the family. Nathan partners with audio visual experts Electronic Living and fit-out specialists Trivision, to plan, design and build all types of home theatres.
Supporting you throughout the whole process
Understanding that building or renovating your home can be one of life's most stressful times, Nathan is dedicated to supporting you on this journey. His fluid approach, extensive experience and ability to think outside of the box means you are in capable hands. He can help connect you with his network of reputable builders and contractors, or even manage the entire project from design to build to completion - helping save time, stress and often costs.
Planning a new home build, renovation or extension? Speak with Nathan today.